Made from a fava bean base and sweetened with monk fruit, this may be the frozen dessert of your dreams.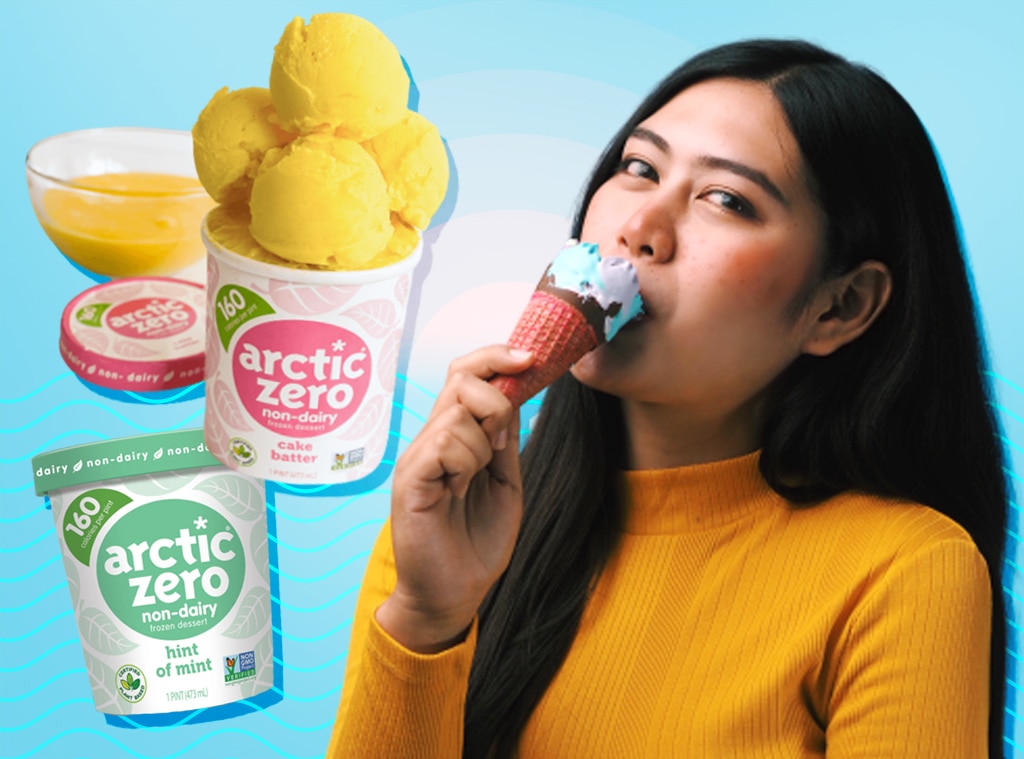 We love these products, and we hope you do too. E! has affiliate relationships, so we may get a small share of the revenue from your purchases. Items are sold by the retailer, not E!.
Ever since we went full vegan, we've made it our personal mission to find suitable dairy-free alternatives for our favorite treats, from chocolate to cheese, and everything in between. But good vegan ice cream was proving elusive, until we discovered Arctic Zero.
Made from a fava bean base and free from wacky, stomach-wrecking sweeteners like sugar alcohol, Arctic Zero non-dairy frozen desserts are pretty much perfect. They're super creamy (magical, considering there's no dairy), not too sweet and delightfully flavorful. Even better? They have way less fat and calories associated with non-dairy ice creams made from coconut, soy or nut milk.
The sweetness comes from a smidge of organic cane sugar and monk fruit, the latter of which is a small melon harvested from the the subtropical hillsides of Asia. It's low glycemic and packed with antioxidants. Plus, each pint is certified gluten free by the Gluten Intolerance Group of North America (except the flavors Cookie Dough Chunk and Brownie Blast), non-GMO Project Verified, and kosher.
We've tucked into a pint (or six) of Arctic Zero over the past few months, and we've yet to find a flavor that disappoints. Even the Vanilla is delicious, with just the right amount of sweetness to accent a vanilla flavor that didn't feel cloying or artificial in any way. But if hard pressed to choose, of course, we'd have to pledge our allegiance to the chocolate flavors. The Chocolate Peanut Butter is the perfect blend of dark chocolate and peanut flavoring, and we were surprised at how much we loved the Cookie Dough Chunk, with chewy morsels of chocolate chip dough sprinkled throughout the creamy base.
So if you're looking for a sweet non-dairy frozen treat to take you through the end of summer into fall, may we recommend trying a pint (or six) of Arctic Zero? Shop below to try some of our favorite flavors, or sample a variety pack to find a favorite of your own!
Arctic Zero Chocolate Peanut Butter Pint
Rich chocolate meets roasted peanut butter flavor in this tasty non-dairy frozen dessert, with each pint checking in at just 180 calories. Plus, it's low glycemic, non-GMO, gluten free and kosher.
Trending Stories
The Biggest Harry and Meghan Bombshells in Finding Freedom
Kane Brown Says He Called Police After Getting Lost on His Property
The Fresh Prince of Bel-Air Is Coming Back as a Drama
Arctic Zero Cookie Dough Chunk Pint
Each pint of this concoction checks in at 320 calories, but every calorie is worth it. The creamy vanilla base is accented with little chewy morsels of chocolate chip cookie dough, which somehow manages to be not too sweet. This is one of our faves.
Arctic Zero Cherry Chocolate Chunk Pint
Cherries and chocolate and vanilla? Oh my! They all meet in one of these six pints, which check in with 280 calories per pint. Cherries and dark chocolate chunks swirl together in vanilla non-dairy ice cream, making for the perfect dessert. Or snack. Or breakfast. We won't judge.
Arctic Zero Non-dairy Creamy Variety Pack
Not sure what flavor to try, or can't choose just one? Go for this creamy variety pack, which features six non-chunky flavors to test out: Purely chocolate, Chocolate Peanut Butter, Cookie Shake, Salted Caramel, Cake Batter and Hint Of Mint. And each pint checks in at 160 to 180 calories, so you can totally have a guilt-free taste test at your kitchen table.
Arctic Zero Non-dairy Variety Pack
But if you really want to go all in, you can get this nine-flavor variety pack, so you can really test 'em all out. This pack features the flavors of Purely Chocolate, Chocolate Peanut Butter, Cookie Shake, Cookie Dough, Salted Caramel, Cherry Chocolate, Cake Batter, Hint Of Mint and Brownie Blast. You may be set with non-dairy ice cream for life! (Or at least a month.)
Once you're done snacking, make sure you check out this month's best new beauty buys! And if you'd like deals delivered directly to your in-box, sign up for the Shop With E! Newsletter!
Source: Read Full Article